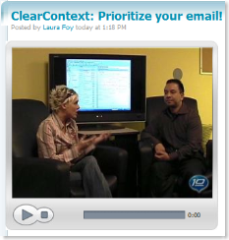 Deva had the opportunity to sit down with Laura Foy at on10.net and talk about our new release before the Thanksgiving Holiday. The result is a nine-minute conversation about IMS Pro v3:
"Working like a digital butler, ClearContext watches your email patterns and quickly learns who is important and who can wait. Whether you go for the free version or step up to the pro package, your inbox will thank you."
Thanks to the Laura and Larry and the on10 team for taking the time to talk to us! Take a look over at on10.net.