A product update is rolling out with the following improvements and fixes: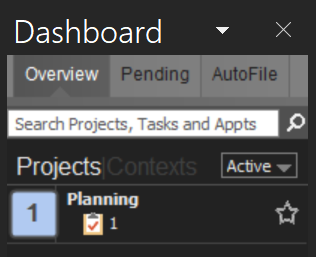 Dark Color Themes: For Outlook 365 and Outlook 2016/2019, support for the Dark Gray and Black themes have been improved to better match the Outlook display, particularly for the Dashboard and MessageContext.

Organizer Printed Reports: Blank lines for handwritten notes have been added to printed reports when space is available.

Dashboard: For the Today by Priority view, keep appointments sorted ascending by date instead of descending like the tasks.

Project/Folder Selection Window: Checkbox option relocated to the right side to prevent accidental selection. This affects display when Project window is shown when messages are sent and when filtering Projects from the Organizer.

Bug Fix: When moving/renaming Projects, only relabel categories if the Project to Category sync option is enabled in Options.
The update is being delivered now to users on the beta/early update channel, and will be going out to all users within the next few weeks. The build number in the About screen will show as 2002.0.