Last week we rolled out a preview of ClearContext Online.  This week I'll spend some time introducing you to our new features.  First things first – take the tour!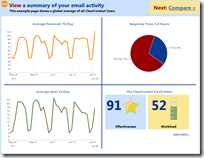 View a snapshot of your email activity on your ClearContext online home page.  This includes:
– Average messages sent and received
– Response time
– Email Effectiveness
For an example, view averages for all ClearContext Users.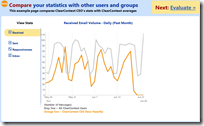 Compare your statistics with other users and groups, including:
– Sent and Received
– Replies and Responsiveness
– Inbox Size, Unread
– Effectiveness and Workload
For an example, see this comparison of our CEOs email performance to the average ClearContext user.  After sign up, this page shows additional groups for comparison.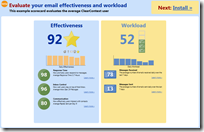 The ClearContext Scorecard allows you to evaluate your performance against others, including:
– Effectiveness and Workload
– Response Time and Communication
– Inbox Control
Evaluate the average effectiveness and workload for all ClearContext users.  After registration, use this page to compare your scorecard against individuals or groups.

If you're ready to get started, download and install ClearContext and click Compare your stats online on the Scorecard.