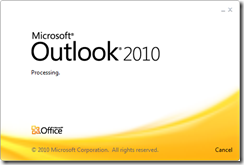 Congrats to the Office team for releasing Office 2010 to manufacturing!
ClearContext v5.0.2 fully supports Outlook 2010 RTM (32-bit).  We still plan to support the 64-bit Office 2010 release in the future.  In the meantime, note that Microsoft does not recommend using the 64-bit version unless you really need it:
"The recommendations for which edition of Office 2010 to install are as follows:

If users in your organization depend on existing extensions to Office, such as ActiveX controls, third-party add-ins, in-house solutions built on previous versions of Office, or 32-bit versions of programs that interface directly with Office, we recommend that you install 32-bit Office 2010 (the default installation) on computers that are running both 32-bit and 64-bit supported Windows operating systems.
If some users in your organization are Excel expert users who work with Excel spreadsheets that are larger than 2 gigabytes (GB), they can install the 64-bit edition of Office 2010. In addition, if you have in-house solution developers, we recommend that those developers have access to the 64-bit edition of Office 2010 so that they can test and update your in-house solutions on the 64-bit edition of Office 2010.
I do expect some minor tweaks to the ClearContext 2010 ribbon to come in the v5.1 release.  Watch the blog for future detail.