A product update is rolling out with the following improvements and fixes: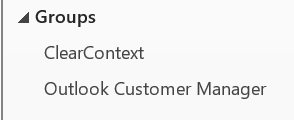 Office 365 Groups: Filing to shared mailboxes in Office 365 Groups is now supported. This functionality can be enabled in the ClearContext->Options screen where the Groups can be enabled in the mail file list.

UPDATE – since the release of this feature, Outlook is no longer allowing the import of existing emails into the Groups folders. Use of ClearContext group filing will result in either the message not being moved, or the message being moved only to the local Group folder in Outlook and not synced to the online Group folder.

* Please note that Group folders have restrictions compared to normal mail folders, so ClearContext can only support them as a filing destination and not for Project/Dashboard functions. In addition, Outlook cannot create new folders within the Groups, only existing folders can be used.


Project Dashboard: Recurring appointments are indicated with an icon. Text colors adjusted to be more readable with certain background category colors.


Dark Mode: Changed text colors in various screens for improved readability and contrast.


Bug Fix: when replying to a message, if a Task or Appointment was created from the composed message, then aborted, other actions after sending message such as filing the sent and/or original message were skipped. Other actions will no longer be affected if a created Task or Appointment is not saved.


Bug Fix: When moving/renaming a Project, if a Project was moved/renamed to one of its children/sub-folders, the parent folder would get deleted. Example: moving "sales" to "sales/new" would cause the entire "sales" hierarchy to be moved to the deleted folder. Parent folders will no longer be deleted in this case.


Bug Fix: When the Project Dashboard is open, and when Task items are updated in certain ways, the Summary Dashboard would lose focus on the current Project and cause next/previous navigation to reset to the first Project in the list. The current focus is now preserved to avoid this problem.
The update is being delivered now to users on the beta update channel, will roll out soon to the early update channel, followed by all users in the next few weeks. The build number in the About screen will show as 2011.0.