A product update is rolling out with the following improvements and fixes:
Followup: Messages that have a Followup task created can now have a category applied to them indicating that a Followup was created. This option is accessed in the ClearContext Options screen under the Tasks/Appts tab, next to the similar options that can tag a message when a Task or Appointment is created from them.





Organizer: The Project and Context view tab now have an option to filter Tasks by date. This function works similarly to the Weekly Planner and Review Completed views, where items can be filtered for 1, 2, 4 or 8 weeks.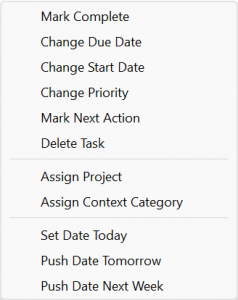 Organizer: A new right click option is available on the Task list where the date of a Task can be set to today, tomorrow or next week. This option is useful for quickly pushing out the date for a due or overdue Task. Either the Due or Start Date of the task will be set according to whether the Organizer is configured to manage by Due or Start Date.





Dashboard: Similar to the above, both the Summary and Detail Dashboards also provide a right click option on Tasks to set the date to today, tomorrow or next week.



File Sent Messages: A new delete button has been added the File Sent Message screen to easily delete messages one does not want to file or keep. Additionally, the screen can now be resized larger, and this size will be remembered when the screen is opened again.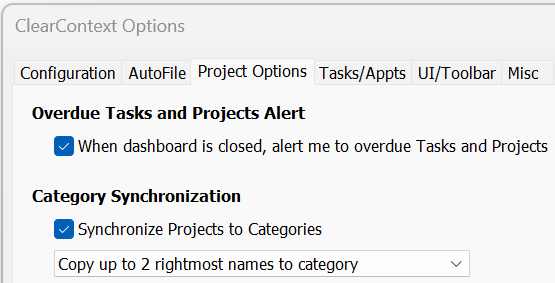 Project Category Sync: ClearContext copies the Project name to the Outlook categories for items by default. There is now an option to only copy over the rightmost portions of the Project name to make the displayed category more concise. This option is accessed in ClearContext Options screen under the Project Options tab.




Project Selector: the text search/entry box in the Project Selector for filing and assigning Projects now supports the control-backspace shortcut key to delete the previous word.


Issue: Address the problem when the Defer and Followup functions are launched from the Ribbon in the main Outlook window, the window could sometimes be placed at the bottom right of the screen.


Bug Fix: Address issue for certain European locales, where the date selector used in the Dashboards, QuickTasks and Organizer would not pick the correct date when the Next Week button was used.

The update is being delivered now to users on the beta update channel, will roll out soon to the early update channel, followed by all users in the next few weeks. The build number in the About screen will show as 2209.0.