A product update is rolling out with the following improvements and fixes:
Defer and Followup: Specific time intervals can now be pinned to the 4 quick select buttons on the screen. To make a button always show a specific time, click on the pin button to the right.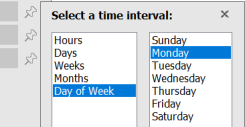 Defer and Followup: When using the new pin option mentioned above, a new type of time interval for a specific day of week is now available. For example, a button can be assigned to always Defer or Followup to the following Monday.


Followup: When creating a new Followup and there is already an active one on the same message conversation, there is now an option to delete any existing Followup tasks upon creation of the new one.



QuickTasks: Different window sizes are now available by clicking on the increase or decrease buttons on the top bar, similar to the size options on the Project/Filing window.


QuickTasks: The Project selection drop down now resizes wider up to the available space when long Project names are displayed for easier readability of long Project names.


QuickTasks: The Date label now shows whether the date selector is setting the Start or the Due Date, according to the Start/Due preferences set in the Dashboard.


Bug Fix: Avoid the issue where on rare occasions, the splitter bar in the Dashboard window could be set outside the visible area so that it was difficult to bring lower portion of the window back to being visible. Also, improve the appearance and size of the splitter bar on high resolution displays.


Bug Fix: Improve the dismissal of the welcome screen when Outlook is started, in certain cases where the window was not automatically closing itself.

The update is being delivered now to users on the beta update channel, will roll out soon to the early update channel, followed by all users in the next few weeks. The build number in the About screen will show as 2104.0.