Last month we shared our plans for making ClearContext v5 simpler, faster and smarter.  This month we're going to post additional detail on what's coming.  We want your feedback as we finalize v5 features, so please post your thoughts in the comments on this post.
Faster Filing
This release heavily emphasizes single-click filing.   Our design goal here is very simple.  The vast majority of the time, file your email in the right place with one click.  In almost all other cases, file with just two clicks.  In place of the Suggested Topics dropdown, v5's File Msg: button includes a folder suggestion.:

If you have previously filed a message from the current conversation to a folder, that folder name is displayed
If you have not previously filed messages in this conversation, the button suggests a folder based on filing history
If you would like to file to a different folder than the first suggestion, click the down arrow

to launch our new folder selector: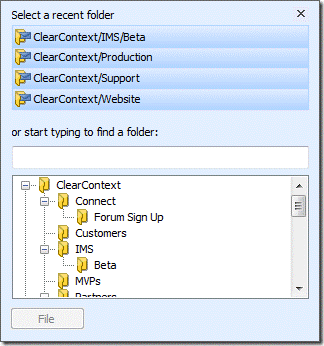 Additional single-click suggestion buttons are at the top of the dialog.  To file anywhere else, quickly select the folder you want by typing or navigating the folder tree: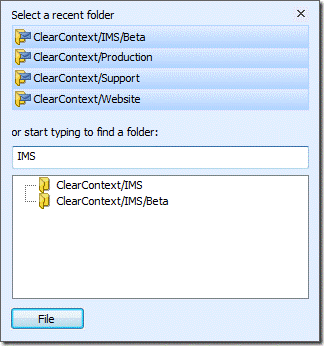 File Thread works exactly the same way, filing the whole conversation instead of just the current message.
Additional Changes
We have eliminated the old Topic dropdown in favor of this new scheme throughout the product.  When sending an email or saving a task or appointment, the folder selector is launched directly, eliminating several clicks previously required to find the correct folder or assign the desired Topic.
We have also simplified Original Message options when replying to a message or creating a task or appointment from a message.  The Original Message drop down has been replaced by the File Original toggle button:

When selected, ClearContext will automatically file the original message to a folder.  If you haven't previously filed messages in this conversation to a folder, the folder selector asks where you want it to be moved to.
Filing has never been easier than it is in ClearContext v5.  It's simpler, faster & smarter. 
We Want to Hear From You
We have a few questions for you to help us finalize these changes:
How many folder suggestions would you like to see in the selector dialog?
Should ClearContext file sent messages to related folders by default?
By default, should ClearContext ask for a folder assignment as new messages are sent and new tasks and appointments are created?
Thanks in advance for your feedback!  Subscribe to this blog for future updates regarding ClearContext v5.
All v4 purchases made after August 1, 2009 and all ClearContext Connect subscribers will receive a complimentary upgrade to v5.  If you haven't already signed up for the v5 beta, send an email to beta at clearcontext dot com.  The beta schedule isn't finalized yet, but we will let you know when a download is available.