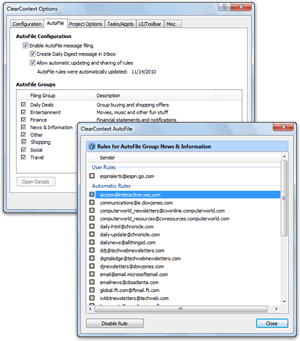 As we prepare to take off for the US Thanksgiving holiday, here are some tips for tackling the Inbox after time off:
Select ClearContext > Options > AutoFile > Apply to Inbox to file messages using ClearContext's automatic rules.
File other unimportant, informational messages by dragging email from bulk senders onto an AutoFile filing group in the sidebar.  This will move all messages these senders into folders for later review.  Watch a demo of this here.
Starting with your high priority (CC VIP) messages, manage your inbox; spending a minute or two on each conversation.  Delete, Reply, File, Defer, Unsubscribe or create a Task or Appointment and quickly move on.
Enjoy the vacation!