The latest update includes improvements to Defer and Followup:
Defer
A new One-Click Defer capability has been added. When enabled, clicking the Defer button immediately defers the selected message for a pre-configured amount of time. In addition, the button in the toolbar/ribbon is split into 2 sections – the One-Click Defer button and a down arrow that is used to access other Defer options. This option may be enabled by clicking on the Show Options button in the Defer window.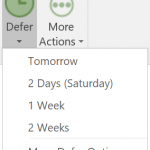 Followup
A task priority option has been added to Follow-up options so that a low or high task priority can be applied to Follow up tasks
This update is rolling out to users on the Beta or Fast update option (this option is accessible in the ClearContext Account screen in Outlook), and will be rolling out to all users shortly.