The v5.1 release has introduced many new time-saving enhancements to the product.  We're posting the updatedUser Guide over the next few weeks.
Much like you can snooze tasks and appointments in Outlook, Defer allows you to snooze a message for a given duration. When you click Defer, ClearContext moves the message into a special, dated deferred folder and automatically pulls it back into the Inbox, unread, at the time of your choosing.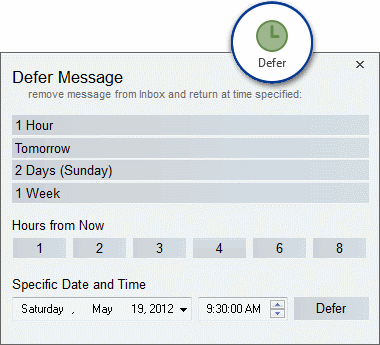 Highlight a message you want to postpone and click the Defer button. You can choose to defer for a number of minutes/ hours/ days/ weeks/ months or choose a specific date and time. ClearContext will move the message into a dated ClearContext Deferred folder (a sub-folder of the Inbox). At the chosen time, the message will re-appear unread in the Inbox. Alternatively, click on one of the ClearContext Deferred dated folders to view upcoming messages. You can defer a message as many times as you want.
Quick Defer Options (Outlook 2007 Only)

In the ClearContext Outlook 2007 ribbon, quick defer options are provided to bypass opening of the Defer Options dialog. Select the arrow in the Defer combo box to quickly defer a message for 1 hour, 1 day, 2 days, etc..
Defer Tips
The Defer reminder time defaults to the task reminder time you have set in native Outlook (usually 8 AM). To change, go to Tools > Options > Task Optionsand change the reminder time in the Tasks subsection.
Tutorial: For more detail on this and other concepts, watch our Getting Started Tutorial.