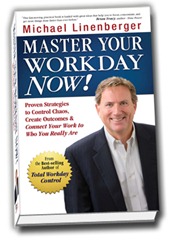 As long time readers are aware, we are big fans of partner Michael Linenberger's no-nonsense approach to email and task management.  This week he has released a new productivity book, Master Your Workday Now! Michael's new book outlines an approach for overcoming overwhelm and achieving your highest level goals.  From www.masteryourworkday.com:
"Within minutes of picking up this book you will:

Get more done, more quickly (and then get home earlier)…
Eliminate overwhelm (because it's impossible to accomplish the critical, big-picture tasks when you're buried under an avalanche of 'minutiae')…
Develop hyper-focus, and concentrate on the task-at-hand (so you're less prone to distraction from outside influences)…
Create, and master, a more productive life…
Have your day support your goals.
Restore much-needed sanity to your work life…
Instill order and sense to your daily tasks and e-mail …
For a limited time, Michael is including a free bonus video and other gifts when you order Master Your Workday Now! See MasterYourWorkday.com for more detail.