ClearContext v5 is currently in beta testing, with final release coming soon.  This release makes ClearContext's email management features faster, more automated, and more intuitive so it's even easier for users to stay in control of their inbox. Here are some of the key differences you'll find between ClearContext v4 and v5.0.
Filing

One of the biggest changes in v5 is an intelligent one-click filing system and project selector.  The File Msg button on the toolbar now displays either the name of the project folder assigned to this conversation or a smart one-click filing suggestion (indicated by a question mark

) for new conversation threads.  Open the project selector (

) for additional filing suggestions or to quickly search for any folder across all your mail files.
Views and Prioritization

In place of ClearContext's old inbox views, v5 uses categories to indicate important messages.  ClearContext marks messages from your important contacts as "CC-VIP" and messages in threads you've participated in or from contacts you know as "CC-OK."  Customize category name and color in options or configure ClearContext to mark important messages with flags or Outlook priority.  This lets you quickly scan and identify your most important messages. We've also provided three optional color-coded views using these priority indicator categories.
More Supported Configurations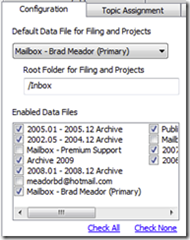 Many of our customers run Outlook on multiple PCs.  ClearContext v5 includes support to run ClearContext on each of those machines, keeping track of filing and prioritization information across them all.  v5 also provides preliminary support for Outlook 2010 (Technical Preview – x86 only).  Additionally, ClearContext v5 now provides filing support to unlimited Outlook mail files.
Features Not Included in v5.0
A few v4 features no longer exist in v5.0.  FolderContext has been removed, as most pro users prefer to use Project Dashboards to view that information.  FolderContext will be redesigned for the v5.1 release.  Alerts and custom Notification Managers have also been removed in v5.0.  Those two features will be redesigned for v5.2.
More to Come
v5.0 is just the beginning of the next generation of ClearContext.  Our v5.0 release focuses on streamlining inbox management.  Version 5.1 is dedicated to improving project management and dashboard capabilities.  And 5.2 will focus on improvements to AutoAssign and related features.  See our blog for the v5 product roadmap.
We hope the new features in ClearContext v5 make it an even more useful and seamless part of improving your Outlook and email experience.  To preview v5, download the beta test version here.  Post all feedback and issues in the beta section of our User Forums.
All v4 purchases made after August 1, 2009 and all ClearContext Connect subscribers will receive a complimentary upgrade to v5.  This upgrade is available for all ClearContext customers, including the TWC/MYN powered edition of ClearContext Pro.