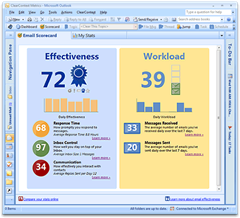 Today we're releasing a significant update to ClearContext Personal and Pro.   v4.6 is available for download now at www.clearcontext.com.  Thanks to everyone for contributing feedback and helping out with the beta program for this release.  Please download and let us know what you think!
This release is focused around two main areas of improvement:
The first is a sneak preview of ClearContext measurement of email statistics, metrics, and effectiveness.  We've added an Email Scorecard and Stats module inside Outlook as an introduction to this new feature area, but a lot more is coming very soon.  Watch the blog for more detail.
The second focus area is a large set of feature enhancements, performance improvements, and bug fixes.
Here are the highlights for the v4.6.3 production release:
Brand New Features
Email Scorecard – Learn more here
Jump to Topic button
Feature Enhancements
MessageContext and FolderContext on/off preferences
Notification Managers location
Toolbar Defaults
Dashboard Message sorting
Dashboard Tasks filtering
FolderContext Sorting Preferences
Topic Assignment defaults
Compatibility and Performance Improvements
Sent Messages & Exchange NDR issue fix
Enhanced Add-in Compatibility
Asynchronous MessageContext
Non-Supported Mail File Check (for Oracle Beehive customers and others)
Performance improvements
For more detail and discussion around this release and a list of additional bug fixes, please see this forum post.
Thanks again, and we hope you enjoy the new release!