Brad just blogged about a Lifehacker post about email innovations people want. Right on the heels of that discussion, Microsoft Office Labs has released an experiment called the Email Prioritizer this week. It's for Outlook 2007 running on Exchange only and features two parts. (image from Microsoft)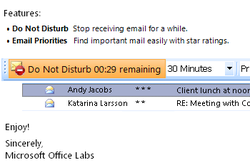 One is a "Do Not Disturb" feature that pauses new email from being sent from the Exchange server to your Outlook client.
The other is an email prioritizer that puts 0 to 3 stars next to each email to help identify important email.
Webware reviews the product and Todd Bishop writes about the project's background based on a Microsoft Research project from 2005 led by Eric Horvitz.
This is interesting and exciting stuff to us at ClearContext, as we've
been focused on prioritizing and organizing emails in Outlook based on a customizable set of parameters for a few years now in both our free personal product as well as in our Professional
paid version – which also helps people manage workflow and projects within Outlook.
Over the past few years we've learned a lot about how email prioritization and triage can help people deal with overloaded inboxes. It's an important part of the solution, but only one of many required parts to help people deal with information more effectively. Really helping people solve the problem requires a lot more than just identifying important messages.
We're currently beta-testing a new version of our completely free product,
ClearContext Personal (for Outlook 2003/2007 on Exchange or POP) that includes those inbox prioritization capabilities as well as advanced ways to
automate the filing and organization of messages and threads, view and work
with groups of contacts, explore attachments within email just like viewing
files in desktop folders, and manage unwanted email threads by
"unsubscribing" from them. Enter your info on the beta page and we'll send you download information so you can try it out.
It's great to see Microsoft and others acknowledging what a critical issue information overload is for people, and we're confident you'll find ClearContext Personal a very useful tool to help highlight your most important contacts and messages – and much more.