This is continuation of our analysis of the 2006 ClearContext Email Usage Survey Results.
As email continues to increase in importance and take up more of our time, it's no surprise that many of us are looking to additional tools for help to increase our productivity. It's clear from our 2006 Email Usage Survey that users are becoming constantly connected to email – turning to webmail and mobile access in greater numbers.
Both last year and this year, we asked how people access their business and personal email – via POP, Exchange, Webmail, etc.. The business mail numbers were virtually unchanged, with the bulk of our respondents getting their business email via Exchange (54%). Of note, however, is that personal webmail use increased more than 25% over last year: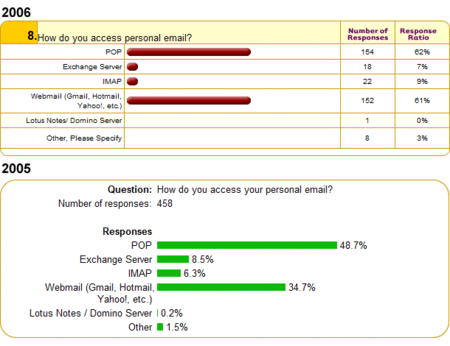 It comes as no surprise, then, that usage of the three major webmail providers up across the board: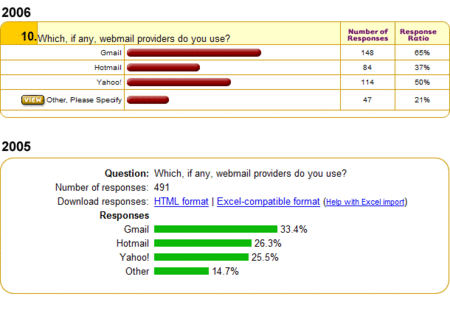 Both Yahoo and Google almost doubled in the number of users – though at the time of our 2005 survey, Gmail was a relatively new product.
Another sign that email is taking a more important role in our lives – the number of respondents reporting that they use a mobile device to access email increasing from under 30% to over 40%. It's interesting to note that the types of mobile devices used to access email are fairly evenly spread out across various platforms, with Blackberry taking the lead.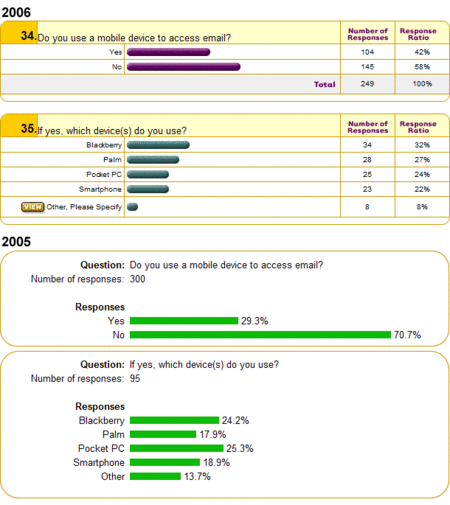 Besides email access and clients, we wanted to get a better idea of what tools are being utilized alongside email to help productivity. 60% of respondents said they use an anti-spam product. Much like last year, there is no clear winner in the anti-spam wars. Though we gave 14 choices of anti-spam products in the survey, more than 50% of respondents selected "Other" and specified yet another anti-spam solution. For what it's worth, Norton and McAfee's products had the biggest share of users, at 19% and 12% respectively.
59% of users said they were using a search product with email. Google is the clear winner for the second time in our survey, capturing 47% of the email search market – presumably via a combination of Google Desktop Search and use of the native search function in GMail. LookOut, Yahoo!, MSN, and Copernic individually captured between 10 and 15% of the market.
Finally, almost a third of respondents said they use other tools to help manage their email. Popular Outlook add-ins include Plaxo, ClearContext, Getting Things Done, LinkedIn, Anagram, and ActiveWords.
We'll wrap things up on Monday with a summary and a handful of other tidbits from the survey.