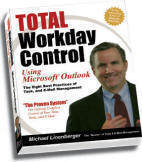 We have said time and time again that a good email management strategy is the key to getting on top of your Inbox. Along those lines, we're pleased to announce that we have partnered with Michael Linenberger, author of the best selling Outlook book Total Workday Control Using Microsoft Outlook, to create a version of ClearContext that incorporates TWC custom views into the product. For a link to the download and a list of the views provided, see the ClearContext Website.

The Total Workday Control System
The Total Workday Control (TWC) System will teach you how to change the way you work using Microsoft Outlook. This system, which has been featured in Fast Company and Investor's Business Daily, can earn you back up to 25% of your workday and week, and help you take control of your e-mail, your job, your career. The system does this by incorporating the Michael Linenberger's eight best practices of task and e-mail management. These are simple time-tested practices that are easily applied in Outlook, but which have far-reaching impacts on your productivity. Best practices like converting e-mails to tasks, using a long term and short term task list, and identifying must-do-today tasks. The system also teaches how to reconfigure Outlook for maximum productivity. And now, most of those custom configurations are available as new built-in views within the latest version of ClearContext. For more information on the system and for information about the best-selling book that teaches this system: Total Workday Control Using Microsoft Outlook, by Michael Linenberger, go to www.workdaycontrol.com (note: order the book from the website and a free training CD is also shipped).
We are a big fan of Michael's system here and think you will find it a great help in managing your work day. Check out the new views and let us know what you think.