Last week we shared the results of a quick test of ClearContext v2.04 against Outlook 2007 Beta 2. Today I want to talk in more detail about our plans for future releases of ClearContext, specifically the functionality we are building to take advantage of new features in Office 2007.
Made for Office 2007
The Outlook team has opened up many additional features to their development partners in Outlook 2007. These features will allow us to more tightly integrate ClearContext functionality into the Outlook UI.

Ribbon Support: As we mentioned in yesterday's post, the first thing we need to do is build ribbon support for our open item toolbars. This will ensure that our application maintains Outlook's new look and feel and should eliminate the extra click currently needed to get to our toolbar.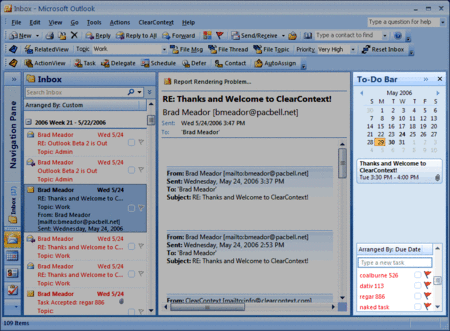 To-Do Bar Integration: We plan to add deferred items to the new Outlook 2007 To-Do Bar. Much like our ActionView, this will allow the To-Do Bar to be a truly global To Do list, showing various action items throughout Outlook (Appointments, Tasks, Flagged Messages, and Deferred Items).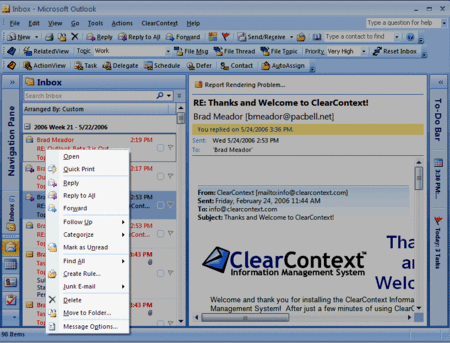 Context Menu (Right Click) Integration: Ever since we released v1 of Inbox Manager, our customers have asked us for the ability to right click messages and perform ClearContext actions. Though it couldn't be accomplished in earlier versions of Outlook, Outlook 2007 will support this. We will place our most commonly used features on the right click menu for easy access.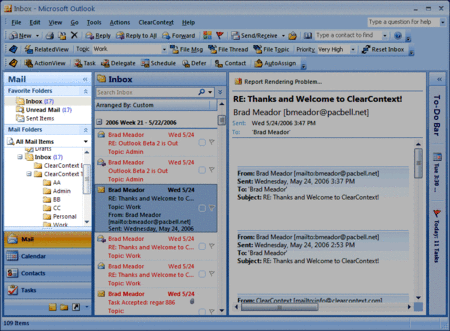 Navigation Pane Enhancement: As I mentioned in last week's post, I really like the new Navigation Pane. We are looking into ways to take advantage of this new features with potential customizations such as showing ClearContext topic folders in the Navigation Pane.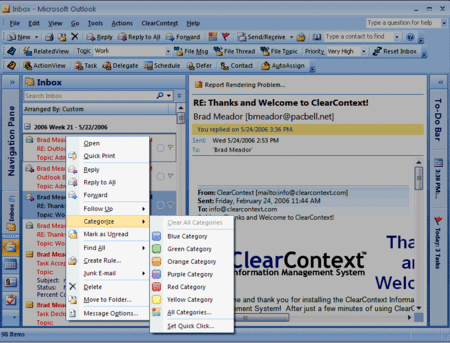 Enhanced Category and Flags Support: The Outlook team has done a
good job of exposing flags and categories in an easy to use way in
Outlook 2007. We're going to capitalize on this new functionality by
enhancing our ActionView and the way we handle topics and categories
within ClearContext.
Integrated RelatedView Dialog: Currently, the RelatedView button
opens a new window with all email, tasks, and appointments related to
the current conversation. For Outlook 2007 we are exploring ways to seamlessly integrate
this information into the Outlook UI without the need to open a separate window.
We're planning to release a major IMS upgrade while Office 2007 is still in Beta. This upgrade will contain many of these Made for Office 2007 enhancements. Others will follow after Microsoft's official release of the 2007 Microsoft Office system.