Yesterday we hit a major miletone in our development of ClearContext Information Management System v2 – we made our first Release Candidate available for download. We have added several new features since the Beta 2 release, including WordMail support, enhanced setup and email tutorials, streamlined error reporting, Outlook 2000 and Windows 2000 support, and an enhanced ActionView UI. Go to our beta page now, download the release, and let us know what you think!
There are a couple of known issues in RC1 (listed on RC1 release page), so we'll have at least one more release candidate before our production release. This release candidate is feature complete, so don't expect any of the features that didn't make it in already to make it into the 2.0 production release. We did gather a lot of very valuable feedback during the beta period and will follow our 2.0 release with a 2.1 in the near future. We hope to address many additional beta feature suggestions/improvements in that update. Thanks again to everyone for the incredibly helpful feedback during our beta program.
We've also finalized the pricing and product segmentation for our 2.0 product line. We've separated the product into two versions:
ClearContext IMS Professional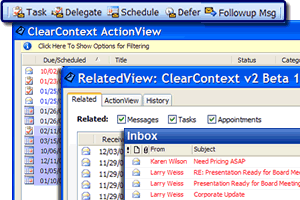 This product will be priced at $69.95 per single-user license. ClearContext IMS Pro is our professional-grade, full-featured Outlook information management solution targeted at customers who use Outlook to manage their day.
Address high value email first with automated prioritization
Automate viewing, categorization, and filing of email threads via conversation management
Quickly manage your tasks and schedule with automated workflow

ClearContext Inbox Manager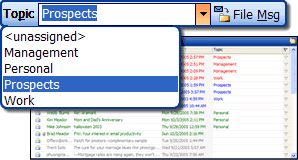 This product is free for personal use. For $29.95, registered customers receive email support and additional functionality (RelatedView, AutoAssign, Sent Message Filing). ClearContext Inbox Manager is our free email management solution targeted at email users who want to manage their Inbox more efficiently.
Highlight important email via automated prioritization
Easily link, categorize, & file email conversations
View the entire email conversation at the click of a button (Registered Users Only)
Buy It Now!
For those of you who may have been waiting on 2.0 before purchasing, here's a special offer that should help make up your mind. People who purchase ClearContext Inbox Manager between now and our 2.0 production release will receive a free upgrade to the full ClearContext IMS Professional product. This offer also applies to all 1.0 users who have been involved in the beta program. We really appreciate everyone's support and hope that you're as excited about the upcoming ClearContext IMS release as we are.
Coming Soon…
In the coming weeks, we'll finalize all of those things that go along with a new release – we've got an updated website coming, a new user guide, a new online demo and much more. Watch this weblog for more information as we complete it.