We are pleased to announce the formal release of ClearContext Inbox Manager v1.1. We have updated all the requisite documentation on our main site, including our User Guide and Product Data Sheet, which can be found on the Additional Information page. Thanks to those of you who downloaded and tried out v1.1 in early access. There have been no changes to the code since that release.
At the suggestion of several users (see this forum post), v1.1 adds new fields that allow you to take advantage of native Outlook date grouping functionality. To install these views, you can download them from our Downloadable Views page. Alternatively, for those of you who have already customized your views and/or would rather make the changes yourself, here are step by step instructions to implement grouping:
1. Select the ClearContext view you would like to change (i.e. By Day or By Week).
2. Go to the Customize Current View dialog via the View menu item in Outlook (View > Arrange By > Current View > Customize Current View in Outlook 2003).
3. Select the Group By… button.
4. Uncheck "Automatically group according to arrangement" if it is checked.
5. At the bottom of the window, change "Select available fields from:" to ClearContext.
6. Set "Group Items by" to CC-DisplayDay or CC-DisplayWeek (for the By Day or By Week view, respectively).
7. Select Ascending or Descending, depending on which order you would like dates to be displayed in.
8. Click OK.
Once you have made these changes, save the view from the ClearContext Options menu (Tools > Options > ClearContext > Views > Save).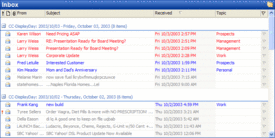 Please note that these views only work on v1.1 or better. If you have recently upgraded from a previous version, you must force a re-score of all messages (via Tools > Options > ClearContext > Scoring and adjusting a slider) to utilize this functionality.
If you have questions about these views and/or additional suggestion for future releases, please see our Features & Support Forum.
Edited to include a screen print of the Group By Week view.