Jason Clarke has written a thorough review of ClearContext Inbox Manager. Ultimately he recommended us, but uninstalled the application. Seems strange? His reasoning is sound and shows that he put a lot of thought into the decision. We greatly appreciate the time and effort that he put into looking at our product.
We suspect that, much like Jason, there are users out there who like the idea of ClearContext's prioritization and topic management capabilities, but need to see their messages in received order like Outlook's native Messages view. To do so, we suggest modifying the ClearContext Prioritized View to sort by Received date. ClearContext will continue to color code messages and topic assignment and filing functionality will remain intact, but the most recent messages will appear at the top of the inbox just as they did pre-ClearContext.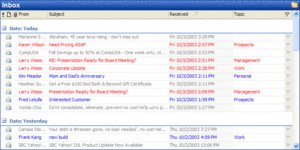 You can download this view from our views page or make the modifications yourself. In the ClearContext Prioritized view simply click on the Received tab at the top of the Inbox. If you are using the Outlook 2003 Side Reading Pane, move it to the bottom (View > Reading Pane > Bottom), click on the Received Tab, and then move the Reading Pane back to the side. Save the view at Tools > Options > ClearContext > Views. If, at any time, you would like to return to the factory installed view, select Restore Original on the ClearContext Options tab.