Official release of ClearContext 5.1 is right around the corner, but for those of you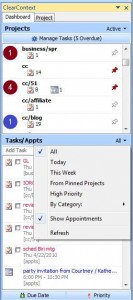 who can't wait to check out the new features, the Release Candidate is now available for download.  We're very excited about the new task and project management capabilities in 5.1 and look forward to hearing your feedback!
Changes in v5.1
The ClearContext Dashboard window has been replaced with a sidebar that brings many task and project features to the forefront of the product.  For more extensive task management needs, the new Task Organizer helps with reviewing and editing tasks in bulk.
Sidebar – The ClearContext sidebar consists of a status dashboard and a project tab with detailed project information.
Task Organizer – Change due dates on tasks in bulk; Manage and view tasks by project, category, priority, etc.
Email Management – File Project, Delete Original message on reply, file to single processed mail folder, and more.
Visit the download page for more product information and to download the 5.1 Release Candidate.