The average ClearContext user receives about 500 emails per week. How does your email activity compare to those users, your friends, and people at your company?
ClearContext users reply to emails on average within about 6 hours. How does your email responsiveness compare?
Most ClearContext users send 100 messages per week and keep their inbox at under 25 messages.  How effective are you at managing your email, and what steps can you take to improve your effectiveness?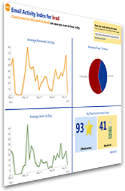 Today we're excited to give you a way to answer those questions as we open up beta availability of ClearContext Online to everyone!
ClearContext Online is a companion service to both our free Personal and paid Professional ClearContext for Outlook products.  This site will provide a wide range of services to help you take better advantage of all the interactions and information that flow through your email within Microsoft Outlook.
The first set of services we're releasing revolve around email statistics and effectiveness:
View (and share if you choose!) a snapshot of your email activity
Analyze and compare detailed email statistics with your friends and groups such as your company
Evaluate and compare your email effectiveness – and soon get personalized tips on how to improve!

If you're a ClearContext for Outlook user already, click the Compare your stats online link on the ClearContext Scorecard in Outlook to get started with ClearContext Online.  If it's your first time, you'll have to register and then click that link again to access ClearContext Online.   If you have already registered a support forum login, that login will work for ClearContext Online as well.
If you're not a ClearContext user already, download ClearContext or take a tour of ClearContext Online.
In the coming months, we'll be writing a lot more about how we're expanding ClearContext Online to help you make the most out of everything you do within email.
Before we go into detail on that, though, our next big announcement will be something many of you have been waiting on for a long time – information on the next major release of ClearContext for Outlook.  We're working on a lot of exciting improvements that our users have been requesting, and can't wait to share our plans with you.  Stay tuned to the blog for a post on that later this month.