The second edition of Michael Linenberger's #1 best-selling Outlook book, Total Workday Control Using Microsoft Outlook, has been released today. See the announcement here. In conjunction with the new book, we have released a new TWC-powered version of ClearContext. Details below.
Manage-Your-Now!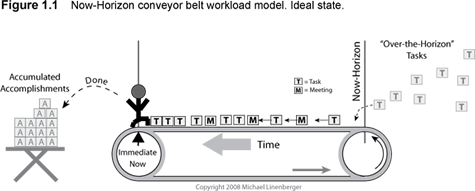 In the 2nd edition of Total Workday Control Using Microsoft Outlook, Michael introduces an entirely new theory of task management that he calls Manage-Your-Now! (MYN for short). Here's what he has to say about the new system:
"…it is a system to successfully manage the overload of work that you have on your plate right now. It truly does help you manage that period of time you tend to be most anxious about: your now. It helps you choose what tasks to do now, what e-mail to focus on now, what not to worry about now. You gain confidence that the important tasks are attended to, which greatly lowers any anxiety you might have about your workday."
I had the pleasure of reviewing the book before it was published and found that the MYN system perfectly articulates the way that I have managed my tasks for years; providing focus on the things that must be completed in the next week or so and pushing everything else outside the "Now Horizon." MYN puts process behind this concept to ensure that you stay focused on your immediate tasks without dropping the ball on anything coming over the horizon. For a more thorough look at the theory, see this sample chapter from the book.
MYN-powered ClearContext IMS for Microsoft Outlook
In conjunction with Michael Linenberger, ClearContext has developed an MYN-powered version of ClearContext IMS. The new release comes pre-configured to support the MYN system and includes 14 new custom Outlook views, a customized TWC toolbar, tighter integration of TWC teachings in the product, and much more. See our TWC partner page for more detail. If you have questions about the new product, ask about them in our forums.
We are very excited about the release of Michael's new book and our software to support it. If you are looking for a comprehensive, end-to-end task management methodology, check out the new Manage-Your-Now system and MYN-IMS v4.