We are pleased to announce that v3.1.0 is available for general release. As mentioned in more detail previously, v3.1.0 adds several new features, including: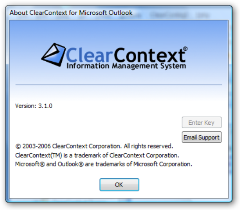 ClearContext Vista Sidebar Gadget Support
Enhanced Automated Filing
Improved AutoAssign Management
Global Follow-Up
Open RelatedView
New Total Workday Control views
We have updated the website to support the new release and changes in the User Guide reflect the new features. We've also added a new Add-Ons page to the website which shows one more item to come in conjunction with this release. More detail on that later…
If you previously installed v3.1 when it was released a couple of weeks ago, there is no change between the functionality of that release and this one; you do not need to update your install. We did change the installer, so our Vista Admin customers running with UAC turned off will no longer need to make a separate download.
If you've been waiting for the final final v3.1 release, download and install it now – I think you will find the new features very useful!