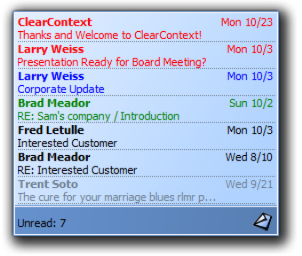 Thanks for all of the great feedback we have gotten on the new ClearContext sidebar gadget. We have posted a beta refresh of the gadget here. We now support Outlook 2003 and 2002 (XP) users who are running IMS v3.1.0 or greater. The connection to Outlook should be more reliable and we've polished up the UI. We've also resolved an Outlook shutdown issue that was tied to the receipt of non-mail items (i.e. task requests).
ClearContext IMS Not Required
This release contains standalone support. If you have friends who are running Outlook 2007 but haven't made the leap to ClearContext IMS yet, please forward this gadget to them. Much like the ClearContext-enabled version, the gadget displays unread Inbox messages and allows message previews without opening Outlook. Due to technical restrictions in Outlook 2003 and earlier, the standalone version of the gadget is available for Outlook 2007 only.
Please post feedback on the gadget in our user forums. Thanks again for your help.