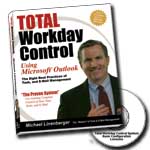 Two Total Workday Control related notes:
Michael Linenberger has posted detailed step by step instructions on getting started using ClearContext with the Total Workday Control System. This is a great place to start if you are using the TWC-enabled version of ClearContext.
We have added two more TWC custom email views to the product – TWC Inbox by Category and TWC Inbox by Topic. Go to our TWC partner page for more detail.