I've been working on documentation to support our upcoming v2 release, including a series of tutorial emails that highlight some of our more important features. I'm going to post excerpts here for those who are looking for more information about v2. Feedback is always welcome, so let me know what you think.

Introduction to ClearContext IMS Professional


Don't want to deal with an email right now?
Click Defer to move messages out of the Inbox until you want to see them.
At the time you choose, the message reappears in the Inbox.


Need a response to the email you send? As you compose a message, click the Followup Msg button to create a reminder task that appears if you don't receive a response within a certain date.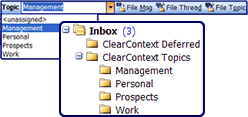 Having trouble keeping organized? Categorize your email conversations by clicking on the Topic field and typing a category name to assign to a message. All messages in the conversation are assigned this Topic. Click a filing button to move the message to the corresponding Topic folder. Turn on "Save Messages to Topic Folder" to automatically categorize and file sent correspondence.
Next Up: Views & Prioritization