A product update is rolling out with the following improvements and fixes:
Project Selector: Keyboard shortcuts are now supported to select the suggested Projects shown in the upper buttons. To enable, click on the Options button, and the menu item Enable Keyboard Shortcuts. Once enabled the buttons will be numbered and keystrokes such as Alt-1, Alt-2, etc. will trigger the suggested buttons.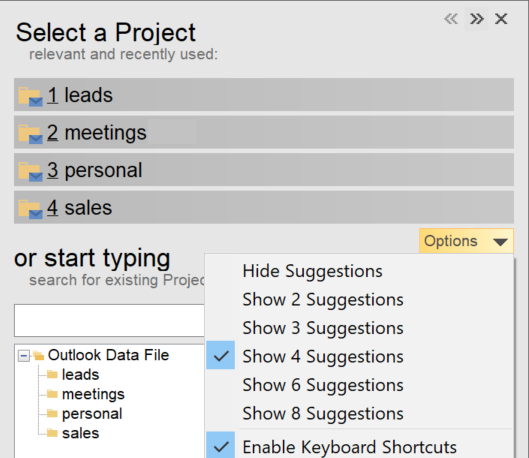 Defer: When one-click Defer is enabled, and pinned time interval buttons are set, the pinned times are now shown in the Outlook Ribbon menu under the Defer button.


Followup: Fix issue where the Task Subject under the Options section was not getting preset from the subject of the message.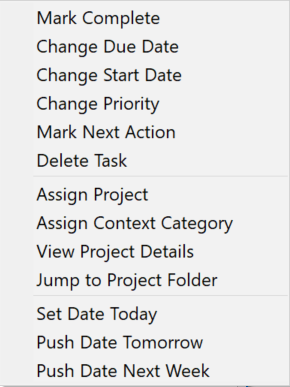 Organizer/Dashboard: Add a right click option for Tasks to Jump to the Project folder. If a Project is assigned for the item, Outlook will navigate to the Project folder.


Organizer/Dashboards: No longer show outdated Context categories from completed Tasks and Appointments when they have not been used in some time. (the original categories in the items themselves are unaffected)


Detail Dashboard: Optimize placement when opening Detail Dashboard to try and avoid having the bottom cut off below screen


Project Move/Archive: Add notifications if there is a problem moving message or deleting the original folders. Avoid deleting original folders if they are not empty.

The update is being delivered now to users on the beta and early update channels, and will roll out soon to all users in the coming weeks. The build number in the About screen will show as 2309.1. Note: beta testers may have already received a 2309.0 build, this build fixes an issue with Project Selector shortcuts when there are more than 9 suggestions showing.