In one of our email usage surveys, we found that 2/3 of email users leave their sent messages in the Sent Items folder.  It's not surprising that so many have given up on organizing half of their correspondence given how difficult it is to file sent messages properly.
ClearContext Pro makes filing your sent messages simple.  Press the "File This Email" button when composing a message.  If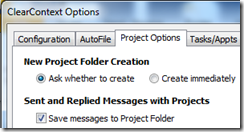 a project is assigned to this conversation thread, the sent message will be moved from Sent Items to the corresponding project folder.  If a project hasn't been assigned, ClearContext will ask for one before it sends.
ClearContext will remember your filing preference.  You can explicitly turn send message filing on/off via ClearContext > Options > Project Options > Send and Replied Messages with Projects.