The last half of December is always a welcome break from nonstop email, with many people away from work and computers during the holidays spending time with friends and family.  I'm glad to count myself among that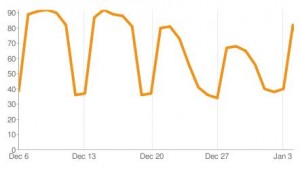 group this year!  ClearContext Online email statistics show that overall people received 1/3 to 1/2 less email than normal over the past couple of weeks. What a relief!
But now it's 2010 and the first week of January brings with it a return to the normal avalanche of email – as well as a backlog of messages waiting for us.  That's where ClearContext comes to the rescue!
A lot of the changes in ClearContext v5 are designed to make it faster than ever to clear out overloaded inboxes. Automatic highlighting of your important messages, one-click email filing, and project buttons help you stay on top of everything you need to get done.
It's easy to let email take control of your day, but ClearContext lets you take control of your inbox!